We snuck upstate today with a group of friends for an orchard day trip. Apples were picked, raspberries were plucked (and liberally sampled), pumpkins were chosen, haycarts were ridden, and local brewpubs were patronized. All in a day's work, folks.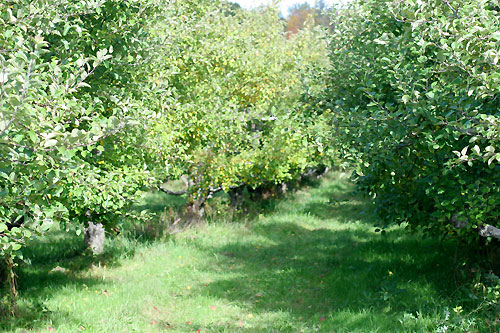 Being a New England girl, I can talk your ear off about apples: the best cultivars for eating fresh vs. baking vs. saucing, the disappointments of Rome Beauty, and why Red Delicious deserve a second chance.
I understand that many of you have probably had mealy, sorry excuses for a Red Delicious and so are loathe to try them again, but trust me, if you ever taste a true old-fashioned Red Delicious, you'll never forget it. They're perfectly crisp and shot through with flesh translucent with sugar.
But nevermind Red Delicious. Let's talk about my favorite eating fruit, Stayman Winesaps.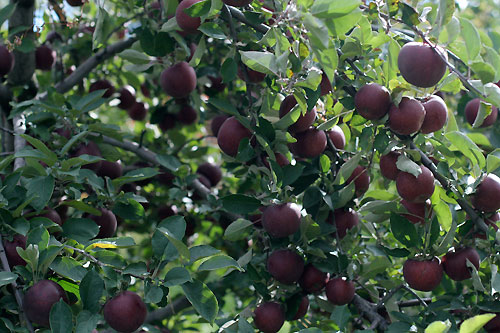 I'm obsessed with these apples. They're sweet-tart and crisp, with a smell like spiced wine. They're excellent fresh as well as cooked in every fashion--though I've never cooked with Staymans, because I've never been able to stop eating them raw. At this orchard, they fruited in large clusters, nearly plum-dark, and though their skin is dull off the branch, they burnish up beautifully.
I have less to say about raspberries--only that they're delicious, but hard going. It's tough, manuevering between wasps and thorns and unripe fruit, just to get some sweet drupelet action! Also, I wish I could post my photo of DK lying on the grass, picking raspberries from below. Alas, this more general shot of the raspberry canes must suffice.
We ended up with about two pints of raspberries (a little over a pound)...
...and two giant bags of apples (about 40 pounds, no joke).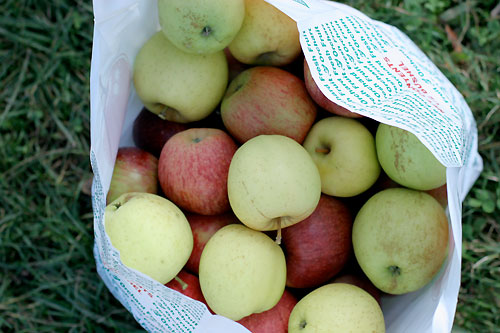 Tomorrow, let the
apple pies
,
applesauce
,
apple butter
,
apple doughnuts
,
apple turnovers
, and
tartes tatins
commence!