Just as I suspected--it was the ceramic poodle, with the world globe.
Egads, what a dastardly fellow!
...Okay, that was a really flimsy setup for these recent finds, but don't they somehow remind you of the weird little objects that always pop up in a good old-fashioned murder mystery? Just a little?
The poodle comes from eBay, where he was purchased in a lot along with two of his dachshund relations. A very useful pup, he holds pens and pencils in his, ahem, derrière and letters between the coils of his back. The magnifying glass comes from a recent estate sale (I'm officially hooked); every household should have a magnifying glass, to read fine print and start fires and such. And the globe come from a stoop sale, and it's also a very pragmatic purchase because... I often... need to... look up... which continent I'm on?
Yes, I can pretty much justify everything I buy. Which is why I own a machine just for peeling apples, dozens of dresses that aren't my size, and
a lamp I can't turn on
.
Anyway, I just couldn't pass up the globe. I saw it from across the street and raced across traffic to snatch it up before some other atlas-crazy gal saw it and claimed it first. And while it may not be very useful as a reference tool, surely it's a very attractive night light.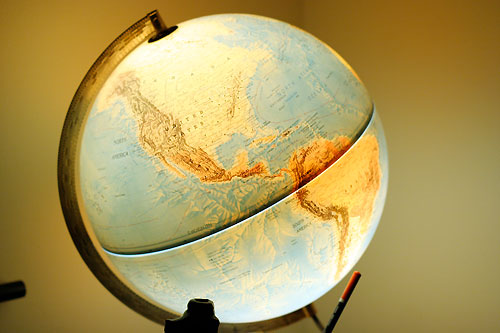 O, yes, did I mention? It's a light-up globe! I mean, it would have been silly for me to buy a plain, old, outdated, non-lighting-up globe. Because I already have one of those.
PS: Eeep! I ran out of appropriately sized envelopes, so I'm way behind on sending out hankies. Anyone who's emailed me in the last week, your hanky is now en route. I hope no one's poor sniffly nose or empty breast pocket has suffered unduly because of this delay!